How to take care of your swimwear
Everyone has their favorite when it comes to swimwear that they will take special care of, but you should take care of them all! SOPHiA's swimwear is designed in Europe, Denmark using high-quality material, made of 80% polyamide and 20% elastane or Econyl. Which makes the fabric thick and body hugging to keep it tight in all the right places!
Please follow our guidance to make sure you care for your beautiful swimwear properly, so that you can keep your swimwear for as long as possible.♥️
To maintain the swimwear and keep it looking brand new for as long as possible, simply follow SOPHiA's guidance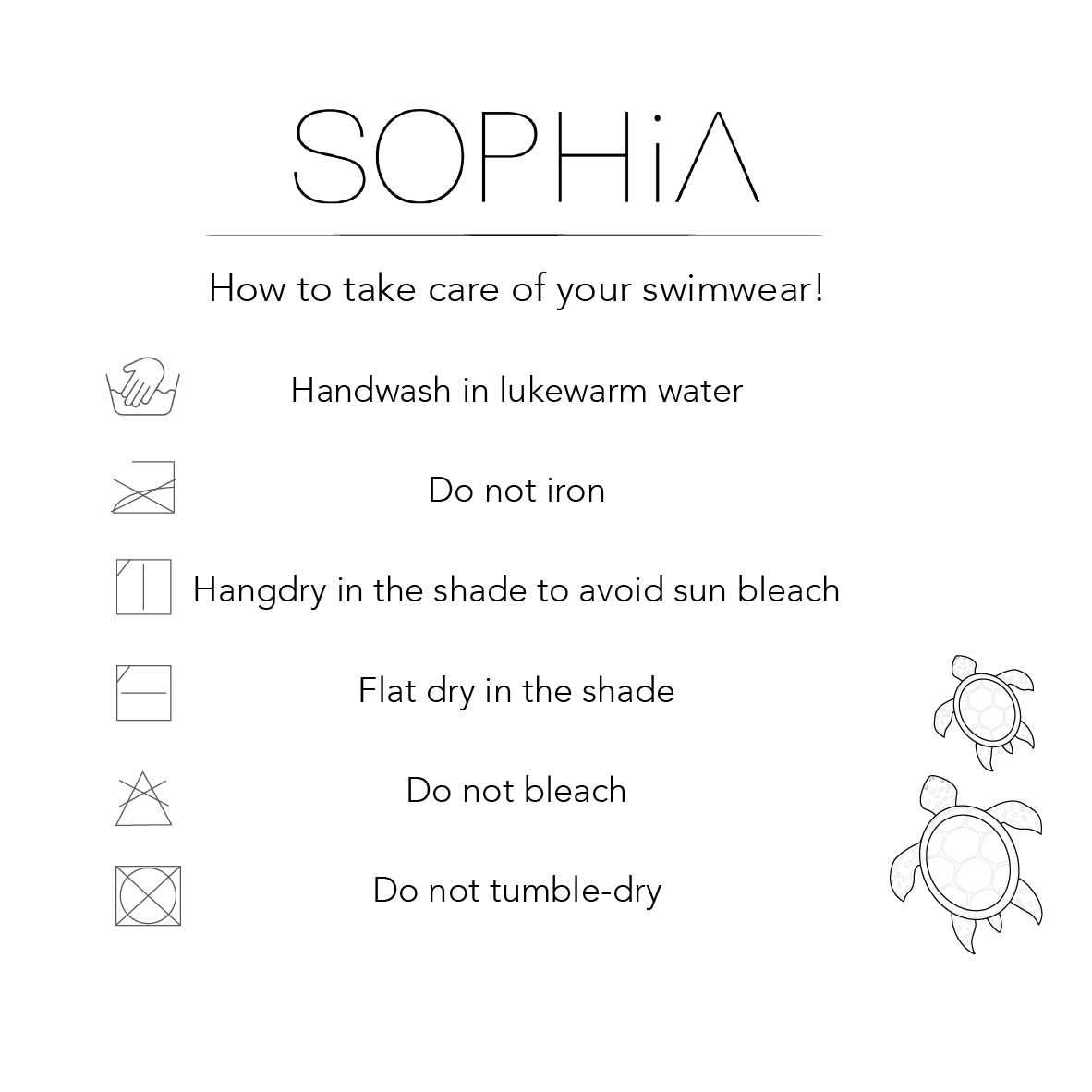 How to prevent the color from fading
Avoid getting sunscreen or any oils on your swimwear, as it tends to stain.
After a day at the beach or pool, take your swimwear out of your SOPHiA bag and preferably hand-wash in cold or lukewarm water. Why? As the salty Ocean Water and Chlorine tends to gradually break down the fabric and color of the material. You should always wash it in fresh water after every use, you can use soap with neutral PH levels if needed.
Avoid washing your swimwear in the washing machine. As it will distort the shape of your swimwear, the washing machine to tends damage fabric fibers. You should always wash your SOPHiA swimwear alone, as other clothes and hot water will also damage the swimwear.
Avoid drying your swimwear in the direct sun, as it tends to make the colors fade. We do not recommend putting your swimwear in the the tumble-dryer.
How to maintain the fabric and elasticity of your swimwear
After rising your swimsuit, avoid wringing the water, as this damages fibers and elastic. To remove water, fold your swimwear into a ball in your hands and squeeze the remaining water out. Flat dry on a clean towel in the shade or hang-dry your swimwear in the shade.
To keep the fabric from getting damaged, avoid rough surfaces when using or drying (i.e. concrete, rocks etc).
Don't be tempted to put it in the tumble-dryer, this will permanently damage your lovely swimwear. Never iron your swimwear as the heat will burn the fabric.
Avoid over stretching your swimsuit, go up a size if needed. It will also compliment and lay better your body.
Note The fabric is thick and body hugging, it will not become loose and soggy when in the water.
Extra tips
Try to alternate between your swimwear during the summer, that way it has time to dry and regain its shape after use.

When sitting by the pool or the beach try to avoid laying on rough surfaced tiles or rocks, as it might scratch the fabric.
Try to avoid the heat and the products used at a spa and sauna, they can also damage your swimwear. In this case we advise you to use an old swimsuit, a non favorite!